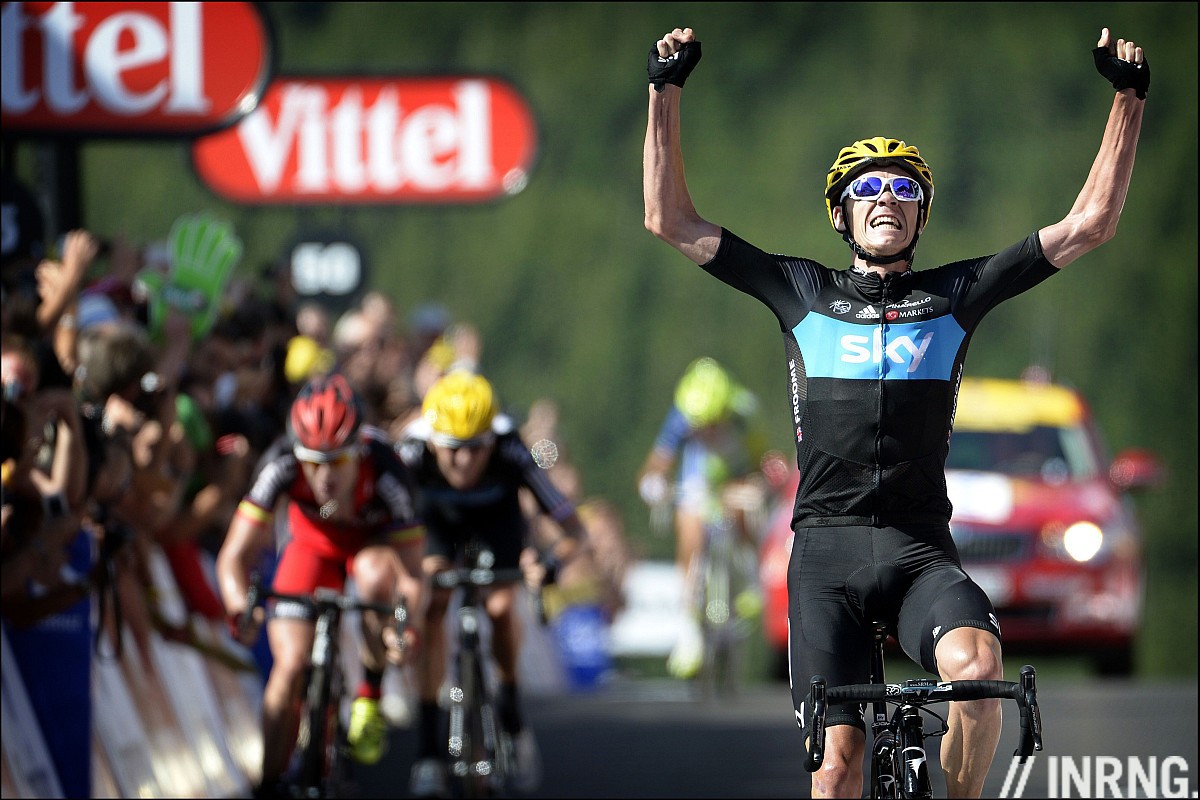 As many have remarked, when Team Sky launched they stated the aim of winning the Tour de France. It seemed far-fetched but my take was that when you have a big sponsor and you launch the team then you cannot say much else.
Today this aim is now a possibility and in Sky's management style, a big box to tick. The British squad is in a very comfortable position with both Wiggins and Froome in control and don't forget it was the work of Edvald Boasson Hagen, Michael Rogers and Richie Porte that shredded the peloton. It split in the approach to the final climb, it exploded on the slopes of the Planche des Belles Filles.
What did we learn?
Obviously Sky are in total control. BMC had been praised for the way Evans was protected during the first week but his bulky bodyguards were fine for the flatlands but not today; by contrast Sky's "lightweights" took control. Today's climb was a very intense effort – Wiggins did 470 watts – and the Alpine stage plus the Pyrenees will be different because you can ride a full on pace to asphyxiate rivals today but this can't be done on a full mountain stage where things are more tactical. So if we got some obvious clues for the overall, don't extrapolate today's riding too far even if it seems plausible to do so.
Talking of tactics, who is the stronger rider between Bradley Wiggins and Chris Froome? There's no question of leadership since Wiggins is in yellow and Froome is 1.32 behind. We'll see how Froome fares in the time trial on Monday.
Wiggins seems relaxed. His appearance in front of a microphone or TV camera is like the British weather, you can get dry humour and mild manners but other times he's stormy or as impenetrable as the fog in a Sherlock Holmes tale. Apparently he was lording in the press conference after the stage and have an articulate interview on French TV. He speaks fluent French but had been declining to speak the local lingo but all seems well now. The conquest of the yellow jerseys is an interesting moment because Sky seem so methodical in their approach but Wiggins also took an emotional stance, mentioning what the jersey means to him, with his childhood dreams, his son and more.
Dropped
The result today was a bit skewed by some mechanical problems. Jurgen Van den Broeck dropped his chain and was out, Alejandro Valverde had a problem too. Whisper it but dropped chains are becoming a real problem for riders with electronic gearing. With traditional gear shifting if you drop the chain then you work the gear shifter to tease the chain back on but the electronic shifting is so fast you can't do this the same way. It reminds me of a shoot-out in a western film where a gun jams.
Taraamae
Surely the surprise of the day was seeing Rein Taraamae hang with the leaders all the way whilst big names were ejected?
Who can attack Sky?
I tweeted a message of congratulations for Cadel Evans. Some took this the wrong way, as if I was not saluting Froome. Far from it, it would have been obvious to salute the Kenyan Briton. I merely wanted to remark that Evans was the only rider capable of attacking Sky. It didn't work but at least he tried. Now we must see who else will attack. Nibali will aim to spring a surprise. He is one of the peloton's best descenders so the predictable move is to attack over the top of a climb and then try to get a gap on the descent; quite possible for next week's Alpine stage when the race goes over the Croix de Fer and the Mollard with some tricky descending before the final ramp to La Toussuire.
If you want to know more about Chris Froome, I wrote a profile about him during the Vuelta last year.
Becoming a legend
If you liked the climb then note it will be back in the Tour de France. The regional authorities want it to join pantheon of legendary climbs in France. The only way to achieve this is to send the race up again and again. What makes a piece of road into a mythical venue is the subject of a piece for another day but note Tour organiser Christian Prudhomme is already a fan of the climb. The spirits of the Galibier and Tourmalet won't be troubled but use the Planche enough and people will remember its name.
It's worth noting this climb. If you watch the spring classics or the Giro d'Italia then double-digit gradients are the norm. But the Tour de France has been exceptionally conservative over the years. You could be forgiven for thinking France only has 20 mountain passes and certainly it's true the Pyrenees don't have too many roads. But the Alps, the Jura and the Vosges (today's mountain range) are packed with tiny roads and giant climbs. Only these smaller climbs rarely if never feature so today was a small step in the race's history, or rather its future. Expect more variety in years to come.
And tomorrow?
There will be a proper stage preview on here as usual but it's a hard day that will suit the attackers. I'm not sure the GC will be stirred up but word is that many riders have been saving their legs for Sunday, expect to see the breakaway specialists trying to get in a move. For example Gerrans, Chavanel, Roy or Gilbert. It will be televised in full, from start to finish.