Marco Rusconi Tragedy
Promising young rider Marco Rusconi died suddenly and without warning yesterday evening.
The twenty four year old rider who rode for the amateur team Ceramiche Pagnoncelli had been out for the evening celebrating a friend's birthday when he appears to have suffered a heart failure in the centre of Villa Guardia (Como). He was taken to the hospital of Sant`Anna in Como, but the medical staff were unable to revive him.
Marco Rusconi was a promising amateur and was very likely to join the professional ranks next season with the Quickstep team where his brother in law Luca Paolini is a team member. He rode as a stagiare with Quickstep from September this year.
He had started his career with the Calzolai team, rode as a junior with Comense, and rode for the Frangi Auto before joining Ceramiche Pagnoncelli.
Marco was born in Tradate on the 14th November 1979. The Daily Peloton offers its sincere condolences to his family and friends.
Lampre New Sponsor
In Belgium it is the battle of laminated floor sponsorship - Quickstep, king of the Classics and Berry Floor, ruler of the Tours.
Now Saeco coffee machines in Italy have a rival for cycling fans' attentions - Grimac coffee machines have decided to back arch rivals Lampre.
Still if Belli and Simoni once again have words, at least they will be able to relax afterwards with a nice cup of expresso!
Lampre Press Release....
Tomorrow we will see Giuseppe Saronni, General Manager of team Lampre present at the Grimac stand (the international show at Milan as HOST, the most important international show for Coffee and Bar equipment aswell as restaurant.) Saronni and Giancarlo Gardosi president of GRIMAC S.r.l. have come together on an agreement for the sponsorship.
The brand name of GRIMAC, from the industry of Zola Predosa, citizenship of Bologna, specialising in coffee machines, will be seen on the jerseys of team Lampre.
This accordance of sponsoring for cycling has been going for a while with the sponsoring of Fabiana Luperini, and now they have made it into the ranks of professional cycling in the men's department as well.
Grimac S.r.l. started 31 years ago; it started out as an industry making spare parts for the main coffee machines of Europe, then 10 years ago Grimac decided that they had the potential to start their own line of coffee machines, namely for bars, restaurants, and now also for the home use and office use.
Massimiliano Gardosi and Marco Lenzi, Marketing Director and Director of production respectively for Grimac, will be presenting Saronni with the positiveness of their decision for sponsoring Team Lampre. "This way they feel they can be more present with the sport of cycling and with the victories of Lampre they feel that they are victorious with their decision, to have our name on an important team shirt like Lampre is a great pleasure for us".
Giuseppe Saronni added, "A great thanks to the Gardosi family, for the decision made to sponsor our team, and we hope to bring great satisfaction to them in 2004 for this decision made, commercially and personally for the future".
Raimondas Rumsas Suspended
Raimondas Rumsas has been suspended from cycling for 13 months starting from 17 July 2003. Rumsas will be barred from competing until the 18th of August 2004.
Rumsas tested positive for EPO during the 2003 Giro. In 2002 he had been at the fore front of a doping scandal when his wife, Edita was arrested at a border check point in possession of various doping products.
Wiesenhof-Leipzig - 2004
The German second division team Wiesenhof-Leipzig have completed their transfers for the coming season. Manager Jörg Strenger will have 12 riders and the road captain will be veteran and pink jersey wearer Jens Heppner. Now 39 years old it must surely be the Germans last season in the saddle.
The two mainstays of the team will again be Ralph Grabsch and Enrico Poitschke. Eric Baumann leaves to join T-Mobile while Thomas Ziegler also moves up a division to join Gerolsteiner. With an annual budget of 1,5 million euros, Wiesenhof-Leipzig is now the third ranked team in Germany.
Wiesenhof-Leipzig 2004
Ralph Grabsch (ALL)
Jens Heppner (ALL)
Christian Knees (ALL, Elite 2)
Roberto Lochowski (ALL)
Daniel Meinke (ALL, ComNet-Senges)
Martin Müller (ALL)
Rene Obst (ALL)
Carsten Podlesch (ALL)
Enrico Poitschke (ALL)
Björn Schröder (ALL)
Sebastian Siedler (ALL, Elite 2)
Lars Wackernagel (ALL)
Tour de Taiwan
Please visit the official site here.
The Tour de Taiwan will start out with a circuit race in the Baolai hot springs district in Liukuei Township in Kaohsiung County on Nov. 19 and having wended its way up the east coast through Taipei County and then to Taichung, it will finish up in a circuit race around a section of Kaohsiung's Love River on Nov. 26. In between, there will be some tough mountain sections which will delight veteran Hong Kong racer Wong Kam-po, who picked up awards in the individual and King of the Mountain categories last year and is the model for Taiwan's racers.
Over 15 international teams are expected to participate in the Tour de Taiwan this year, with star cyclists from BRC Kennemerland of Holland and Team Merrida of Germany. Taiwan will be entering only one team.
"It is all about keeping up a very professional standard," Li said, "We only want the best we can get, so we can't afford to consider local cyclists who are below international standard."
Getting cycling up and running as a major sport in Taiwan has proved hard work for Li, who shook his head over last year's debacle, which put a spanner in the works of upgrading to a 2.5 grade on the international circuit this year. Li said the current race is still listed as 2.6, a grading that is also due to the relatively small purse that awaits the victors, a total of just over NT$1 million.
"It is not enough to attract the very top riders," Li said, "but we are working at it."
Safety for the cyclists will this year be a major concern, but Li pointed out that in a road race, there were too many variables, and Taiwan's drivers and not used to making way for cyclists, even if they know a race is on.
"We will be closing off sections of road as the cyclists go through and will hand out fliers to drivers are passing through, but that's the most we can do."
The stakes are high for the Chinese Taipei Cycling Association as there will be a new lot of international monitors from International Cycling Union (UCI), the main body behind international bicycle competition, to view Taiwan's performance as host.
Local organizers are enthusiastic about the course, citing the many arduous sections, especially sections such as the ascent to Tatachia, which stands 2,610m above sea level from the banks of Sun Moon Lake.
"This is comparable to anything in the Tour de France," Li said proudly. The race will run a total of 1,031km over eight days (no rest day), and according to Li is the longest yet held in Taiwan.
Another factor in the design of the racecourse has been the desire to showcase major scenic locations around Taiwan.
"We have managed to include many of the locations that are being especially promoted by the Tourism Bureau," Li said, a statement that does not sit altogether well with his desire to create a truly unique international cycle race.
The circuit race at Shetou in Changhua and Kaohsiung's Love River have been included to coincide with tourism promotions, and while this does not necessarily invalidate them as good cycle routes, it reveals a dangerous lack of focus on the requirements of the sport.
Even so, while Taiwan will still not be drawing major international names, the field will include riders such as Holland's Francis de Jager, Ivor Bruin and Rol Raymond, France's Denis Roudier and David Fouchet, and Germany's Juergen Kottula. Taiwan's own team is sadly getting rather less publicity than Hong Kong's Wong, whose success in last year's race has meant so much to people in the local cycling community.
To read full report please click here.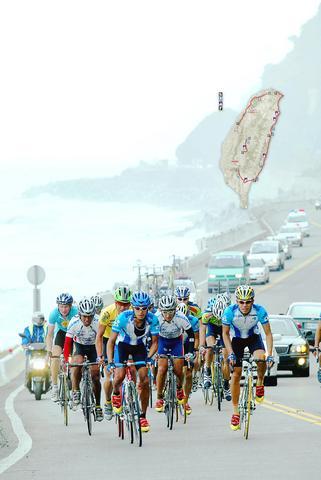 Action from last year's Tour de Taiwan.
Photo courtesy of the Chinese Taipei Cycling Association.
Congratulations to Franco Pellizotti
Allesio rider Franco Pellizotti has become a father for the first time. Claudia gave birth to Giacomo, kg 3.850! You can visit Franco Pellizotti's website here. Best wishes to the Pellizotti family.
Save the "Drome"- Midwest Cross Event
Northbrook, Ill., Nov. 14--A special addition has been made to the Midwest cyclocross calendar: an all-day benefit to help save the Northbrook Velodrome. Set for Sunday, November 23, "Save the 'Drome Cross Madness" will combine craziness and fun into a very unique fundraiser.
Sponsored by the Northbrook Bicycle Club and thanks to the extraordinary efforts of a few dedicated racers who "cross" over from the Velodrome, the race will feature no prize list save "glory" for the riders - all proceeds will go to the Save the Velodrome Fund.
Races take place on a challenging course at the Anets Golf Course on Techny Road in Northbrook, very near to the Velodrome. Registration opens at 8 a.m. and closes 15 minutes prior to each event; mountain bikes are welcome without bar-ends.
The day opens at 9 a.m. with a planned "steeple cross" running race: a cross country-style event on the same course as the cyclocross races. This is a prelude to the cycling events: starting at 10 a.m. with the men's C class, a full slate of races is scheduled.
Plans call for the day to close at 3:15 with the "Dirty Double Cross:" a two-person, one-bike race format in which one member of a team rides while the other runs, with bike exchanges at various points on the course. More information and a race flyer is available at www.dafinc.com/bike.htm.
About the Save the Velodrome Effort--The Northbrook Park District Ed Rudolph Velodrome is in danger of closing after the 2004 season unless improvements are made. The Northbrook Park District, which owns the facility, has offered to fund half the project, charging the local cycling community with raising approximately $150,000. The Northbrook Cycling Committee has created a reserve fund for the effort, and CPA Doug Pence has donated his time to its accounting. More information is available at www.northbrookvelodrome.com.
Lance Armstrong Foundation 2003 Peloton Project Top Honors
Peloton Members Honored at the Peloton Dinner--The Peloton Dinner was a new addition to the Ride for the Roses Weekend calendar. The event was held at a wild game ranch and the evening included a silent auction, a performance by Lyle Lovett, and fun activities - a mechanical bull, a trick roper and photos with a long horn to name a few! Our regional mentors were recognized, as were the handful of individuals who have been raising funds for the LAF since the inception of the Peloton Project, 6 years ago.
During the program Lance presented four special awards. Hodgkin's survivor and third-year Peloton member Paul Beck received the Foundation's 2003 Peloton Messenger Award for gathering the largest number of individual donations from more than 330 contributors. The LAF presented Robert Kukulka with the 2003 Peloton Challenger Award for raising more than $40,000 during his first year in the Peloton. Jeff Rushton, who raised more than $161,000, received the 2003 Peloton Champion Award as the top Peloton Project fundraiser. The 2003 Peloton Project Triumph Award, a special award that the LAF created this year, went to Noreen Driscoll-Breslauer for demonstrating a tremendous commitment to the Foundation's mission and serving as a model fundraiser for others.
Peloton Statistics
Total Amount Raised: $4,381,020.81
Total Peloton Members: 6456
Total US States: All States Represented
Total Countries: 18
Fundraising Goal: $4,500,000.00
You can read the Daily Peloton's LAF representative account of the Ride for the Roses weekend here. (Thanks to the Lance Armstrong Foundation)
Cycling TV
There is a new internet cycling tv provider, appropriately called cycling.tv, based out of London. They currently have some great BMX segments you can watch, you can register for news from them and they will be broadcasting live events in the future. Some of their highlights currently include the UCI BMX 2003 Championships and the 2003 UK National 4X Championships. They are also running a funniest clips contest:
"Cycling.tv is running a competion to select the world's funniest cycling home video clip: crashes, punctures, soakings, sinkings, spills, trips, falls, slides, skids...if you think it's funny send it in.
We will broadcast to the whole world the most amusing clips and then the viewers of cycling.tv will get the chance to vote for their favourite and funniest clip. The sender of the winning entry will receive a bike in their chosen discipline (road, bmx or mountain) worth $1,400 US."
Please support their website by visiting http://www.cycling.tv.