House Slaves vs. Spartacus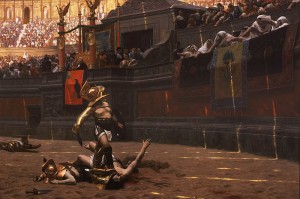 Others, most notably Dean Wesley Smith, have written far more eloquently than I shall about the issue of the coming civil war between writers. I actually don't expect the war to be very civil at all, largely because the internet is not a place which cultivates or rewards civility. In fact, the very title of this post is, I admit, incendiary—but I chose it (and the illustration) for a very specific reason. And, given the reading I've been doing lately for a new project, the title could have been "Doughboys vs The Stars in Paris," but no one gets World War One references these days.
Battle lines are being drawn between writers who are perfectly comfortable within the traditional publishing system, and writers who are embracing self-publishing in the digital realm—house slaves versus the gladiators. Full disclosure here: I still have contracts with major publishing houses; and were I offered substantial contracts with favorable terms, I'd certainly consider doing more work for traditional publishers. So, in the eyes of some folks within publishing, I'm a house slave gone feral, a back-biting ingrate who is bitter because Random House hasn't tapped him for a Star Wars® novel in over a decade, and because they dropped him from their non-media publishing program after The New World came out. To them, bitterness and refusal to accept failure is what's driving me to write hateful things about the demise of the publishing industry.
And, as a kicker, they get to toss in snide comments about my reliance on tie-in work—which they all know isn't real writing—and my willingness to self-publish In Hero Years… I'm Dead and Tricknomancy, since, clearly, my skills have faded to the point where no real publisher would pick my work up. The discussion gets couched in the same terms and tones that one uses when talking about a once beloved dog that has gotten old, snarls too much, and really needs to be put down.
To the credit of the house slaves, they have it pretty good. They're the writers who made the cut and are secure in a position with their publisher that has them above the midlist. Their publishers, either because of long-standing friendships and/or commercial savvy, push their work and reap the rewards. The house slaves have no reason to rock the boat—even though they started their journey on the Titanic and are now in a lifeboat. The point, as far as they can see, is that they're not wet. While remaining dry is certainly admirable; it's a far cry from riding in style on a luxury liner.
I've undertaken at recent events (both online and real world) to ask readers how long it takes them to consume a book. Most come up with a reading rate of one a day to one a week; and we're talking novels that run 80,000-100,000 words, though most readers classify them as "books" regardless of page count. Go ahead, take a moment and figure out what your reading rate is. I'll wait.
In terms of writing, I know I'm fast. The novelization of the Conan movie—including edits—took me twenty days for an 80,000 word novel. (I should note that my speed has not diminished since moving on to Of Limited Loyalty.) For the sake of making the math simple, let's peg the Conan book at a month.
The significance here is simple: Readers consume a writer's output at a rate that is four to thirty times as fast as the writer can produce. Yeah, staggering. This means that the demand for our work is, in effect, infinite. We are incapable of satisfying demand. While readers can and will go back and reread their favorite books, they will not do so preferentially to purchasing new work by that author or in that series.
So, if a writer, like me, is capable of turning out, say, six books a year (slowing things down for convention season, etc.), why don't publishers publish more than two books a year by most authors? This is a legacy of the current distribution model, where the publication of new books too quickly would make book distribution resemble magazine distribution. This is significant because the second a new issue of a magazine hits the stands, the back issues go away and sales of them die. Since stores do not keep back stock on hand, this would apply to novels.
Now, if the publishers move to a model where all back stock becomes digital (as I think they will), they can increase their output, and still reap the benefit of an author developing an audience. The vaunted "long tail" of merchandising (the idea that new or front list product drives the sales of backlist product) will be back with a vengeance and publishers can profit because they won't be storing paper in warehouses for years on end. It's a win for them, and certainly means the house slaves will have a house to live in.
You could logically ask yourselves why, if the above transition is going to take place, other authors and I would be in the Spartacus camp, rebelling against a system which, after a bumpy transition period, will settle back down and it will be business as usual? If my prediction is right, after all, they'll need more books and get them out faster, and I'll benefit from that because I can work quickly.
In this case, the devil is in the details. Let's examine a number of problems.
1) Paranormal romance novels have come on strong over the last decade. If a publishing house publishes twelve books a month and increases their paranormal romance part of that from two books to six, what happens to the writers who used to write the fantasies or military science fiction or hard SF that used to make up the four books that have vanished? They suddenly find themselves sitting on the sidelines. Well, one could say, that they should turn around and write paranormal romance and cash in. That would be great, provided they read the stuff, understood it and liked it enough to do a good job. If none of that is true, the job would be soul-crushing, the book would be crap, and they'd be out on their butts because they couldn't deliver—plus their core audience wouldn't care for the new work anyway.
2) In the pursuit of profit, publishers choose what will go into their lines irrespective of quality. Their job is to sell books, not buy literature. This is why the whole gatekeeper myth—that publishers only allow works of quality to go out—is a load of hooey. If that were true, if they were the gatekeepers, we'd never have a book that sucked hitting the stands. (Yes, Snooki, I'm talking to you.) Remember that whenever you hear the whole legitimacy argument brought up. Tradpub and the house slaves maintain that self-published authors don't have the same legitimacy as traditionally published authors simply because they don't have their imprimatur upon them. (Though I heard a New York Editor tell a crowd at a convention that I was doing the whole self-publishing thing right, by dint of the fact I'd already been published in New York. I guess that means, in some odd way, that Spartacus' former owner took some pride in his rebellion. I wonder if God, maybe just a little bit, thought Lucifer a tad cooler than the other archangels.)
3) The numbers simply do not work out in favor of traditional publishing in this digital realm. Ignore for the moment that writers make a much higher percentage when we self-publish. One of the critical factors involved in all this is time. If I publish the work myself, I make the money for it in 1 to 60 days from the point of purchase. A traditional publisher will pay me 6 to 9 months after the sale, and will withhold from accounting as many copies as he deems fit to resolve future accounting difficulties. In effect, this adds another six months to a year until I see money from that sale.
4) Cash flow management is a very important part of any business. Tradpub provides an advance, which is a lump sum of money which is paid to the writer to finance the writing process. At least, that's the way it was supposed to be. Many publishers have instituted an "on publication" portion of the advance, so I don't get it until a year or more after I finish the book. Moreover, because of reserves against returns, I never know what I can expect to see in a royalty check. In essence, the only money I can count on for a book is the advance, which will be spread out over two or three years. Now, I can be as frugal as the next guy, but making $10,000 last for three years (well, less, since 15% goes to my agent, and another 20% to the government) is a bit of a stretch.
In the world of digital self-publishing, on the other hand, things become a lot more clear. I sell novels at $5 retail, which means, from Amazon, I'm making $3.50 a sale. Every thirty books is $105. I can monitor my sales on a daily basis and on any day I sell thirty books, I know I have $100 coming to me in sixty days. And, sixty days later, on the first of the month, money shows up in my checking account. Suddenly I have a cash flow which is reliable and, more importantly, predictable. I can plan my spending in ways which, previously, were closed to me.
The house slaves will offer certain arguments against why they don't do digital stuff.
1) I don't write that fast, so I won't benefit. Any writer that can say that, I guarantee, has a boatload of stories and/or a trunk-novel or two, that they could dust off and offer for sale. They don't have to write fast—they've already written! Just get that work up and let it sell. It's like having a garage sale where you never run out of old records, bundles of coat hangers or boxes of paperbacks selling for $1 each.
2) I can't do the computer stuff. I always love that one. This from folks who can make up whole universes, can read and research and understand particle physics or ancient cultures; and, all of a sudden learning how to "Save to PDF" is beyond you? Really? These are the same folks who now get sent their manuscripts with copy editor comments in electronic form, and are required to track and make changes in the manuscript. Heck, if they can do that, they can easily format a story for electronic publication.
3) If I do this, I will be blacklisted by traditional publishing. If traditional publishing could find its ass with both hands and a flashlight, you'd have something to worry about. They are profit-motivated. If they could make a nickel at it, they'd suck the eyes out of their dead grandmothers' skulls. It doesn't matter what they think of you personally: if they think you will make them a profit, they'll give you money and take your work. (Again, Snooki, that's for you.)
4) Since everyone can publish on the internet, there is no way to stand out. I'll just get lost in the crowd. Sure, and being spotted in a crowded bookstore is easy? First, you need to find a crowded bookstore—and in an uncrowded bookstore, the chances of your books being there at all are trending toward zero. The fact is that your name recognition means readers know to search on your name via search engines and online outlets. And those online outlets also have that nifty "Purchasers of this book also bought…" function that we don't see in stores. And, let's face it, that "also purchased" bit is far more marketing than most books get from tradpub.
5) I don't want to be distracted by all this. Okay, that's a fair cop. If you choose to remain ignorant, that is your choice. However, it's a bit disingenuous when you snipe at folks who are addressing the future, and then affect shock and hurt and horror when folks shoot back. All I have ever advocated is that authors should, at the very least, get their out of print books and short stories up and available online. So what if you only sell $10 worth a month. It's $10 more than you had and you know it will make a fan who wants to complete his collection of your "Fluffy, Priest-king of Felantis" stories happy.
All of the house slaves really need to ask themselves a simple question: why are the traditional publishers dismissing ebook sales as paltry with one hand, and yet insisting they already own the rights to ebooks for which those rights were never purchased?
The answer is simple: up to this point they had mistakenly equated having a monopoly on the means of distribution with having a monopoly on the means of production. Without writers, tradpub has nothing; and this terrifies them. So they tell themselves that there will always be new writers who can come in to replace the old writers. And the fact is, dear house slave, that there always comes a point where any of us can become an "old writer."
The battle here is not about which group is right, house slaves or the legions with Spartacus. It's about the fact that we produce the content that others have made a living distributing. The contracts the publishers offer us have only changed to their benefit since the advent of publishing. Now that a new means of distribution has arisen, allowing us to sell to our audiences directly, and at a more economical price for them; the old distributors are fully invested in discrediting those who are getting out in front of the changes. They choose to do this instead of reforming how they do business and offering us deals on terms that are far more equitable for all parties concerned.
So they pat your heads in that kindly manner, sweet house slave, and they tell you not to worry your pretty little head about things that don't concern you and that you couldn't possibly understand. They tell you it will all be okay, and that you're safe right here with them. That's what they told you in the stateroom on the Titanic. It's what they're telling you in the lifeboat now.
But ask yourself, when the lifeboat starts sinking, who do you think goes overboard first?
Just because you're dry now, doesn't mean you shouldn't learn how to swim.
__________________________
Writing up this series of blog posts is cutting into my fiction writing time. If you're finding these posts useful, and haven't yet gotten yet snagged my latest novels, please consider purchasing a book. Nice thing about the new age of publishing is that you become a Patron of the Arts, letting writers know what you'd like to see more of simply by voting with a credit card. (Authors charge less when they sell direct, so you save, we make more, and that frees us to write more.)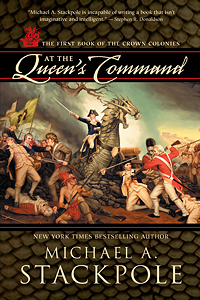 My latest paper novel, At The Queen's Command, is available at book retailers everywhere.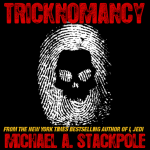 Tricknomancy is a braided novel. That's author for a serial story told through a number of shorter pieces that all come together as a novel. Think of it in terms of a television series. This is series one, consisting of seven episodes. The stories feature Trick Molloy, a magick-using, ex-cop who left the force because he was framed for being a dirty cop. He now works as a bouncer in a strip club, helping friends, solving murders and dealing with an insane family, most of whom would like to see him dead or worse. It's available for the Kindle, and for sale directly off my website for any epub compliant ereaders