free stuff – download and enjoy!
I've spent much of my time creating free tools for electronic music and audio engineering, starting in 1991 with SoundHack and more lately with a series of plugins and externals for Mac, Linux and Windows.
Most of these tools have been created for my own use in the studio, or to illustrate concepts (+decimate, +chebyshev) or techniques (+delay, +bubbler, etc.) to my computer music programming class.
Plugins
Delay Trio

/ Freesound Bundle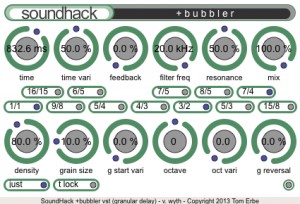 SoundHack Delay Trio is a group of three plugins derived from the same basic delay algorithm: a hermite interpolated delay line with variable modulation, and a feedback loop with dc blocking and saturation. Pitch shifting is achieved with a dual head crossfading delay (ala Eltro Tempophon/Dennis Gabor/Pierre Schaeffer phonogene) and is decidedly low-fi. The saturating feedback also allows them to be great drone and noise generators.
The three plugins are +delay (classic delay effects), +pitchdelay, (essentially the same plugin with controls oriented toward pitch shifting), and finally +bubbler (a granular delay in which grains are pulled from the delay line with randomized start time, delay time and pitch shift value).
---
The Freesound bundle is a collection of vst/rtas/au, mac/windows plugins that I have developed while teaching at UCSD and CalArts.
+chebyshev A distortion unit which uses various low-order chebyshev polynomials to add even or odd harmonic distortion.
+compand is a combined compressor/expander plugin. It has a softknee control as well as a switchable rms/peak level detector. +decimate uses bit depth and sample rate reduction for added aliasing and decimation noise. a very noisy plugin. +matrix is a mid-side to left-right encoder and decoder. for mid-side microphone arrays, but also useful when needing to apply effects to only the center or the sides of a stereo mix. +phasescope is a standard studio tool for seeing the phase relation between your left and right channels. also includes a bit meter.
Applications
soundhack
Spectral Sound Processing for the Macintosh. My original application still ticking, still swooshing, still awfully useful (original release October 26, 1991).
Pd & Max/MSP Externals
William Brent, Daniel Arias, Bryan Oczkowski, Trevor LeVieux and I have been spending some of the last two summers porting the SoundHack plugins to Pd and Max/MSP format. We have now ported 11 plugins to Pd (Macintosh, Windows and Linux) and Max/MSP (Macintosh and Windows). Version 7 features +binaural, +morphfilter, +spectralcompand, +spectralgate, +decimate, +chebyshev, +matrix, +compand, +delay, +pitchdelay and +bubbler.
These are compiled externals with help files. Please send any bug report back to . Thanks!
Pd Downloads
Drop all files in the pd/extra folder
Max/MSP Downloads
Drop all files in the pd/extra folder