On Friday the mortgage markets had another historical move reaching a multi-year high when it comes to the 30-year fixed rate mortgage rate.  The move was gloriously inspired by an employment report that witnessed a record surge in part-time workers.  This all seems to fall into the longer term challenges of extreme quantitative easing given that Japan with many years on us in the QE game has an enormous part-time workforce.  Yet this dramatic reversal in mortgage rates is going to impact the market.  To what degree?  That will be seen but we are already seeing a decline in mortgage applications and of course refinancing activity is slowing down dramatically.  A big change is going to come in the psychological department.  Many were starting to venture into the market with ARMs but with rates rising, these affordability products are now much more risky.  Also, the amount someone can buy has just been squeezed (around 30 percent) with the recent move in the mortgage markets.
Mortgage affordability
It is extremely clear that one big reason why housing values have picked up is the low rate environment.  The big abrupt move in the mortgage market will begin showing its effects in the second half of the year if rates remain this high (or higher).  Take a look at what someone can afford at various rates: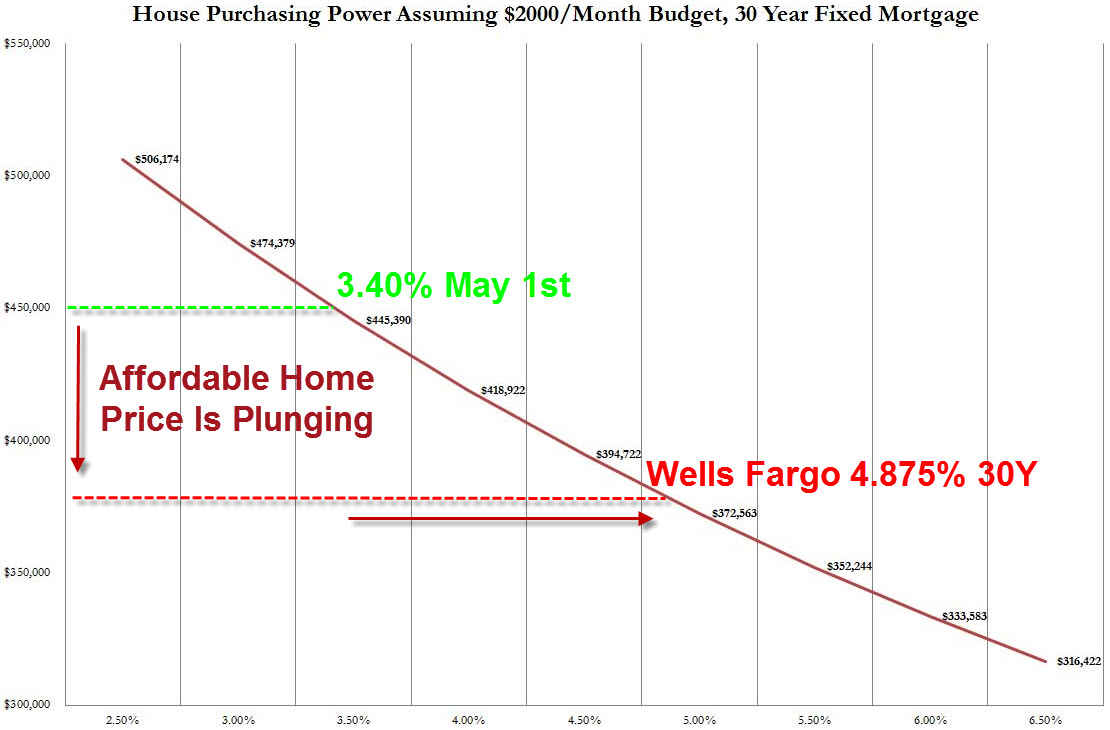 Source:  ZeroHedge
Execution rates are now in the 4.75 to 4.85 percent range.  So take a look at the chart above.  Based on someone being able to purchase with a $2,000 payment, $450,000 was doable at 3.4 percent (just in May) versus $375,000 to $380,000 this month.  In other words $70,000 to $75,000 would need to be shaved off in price to keep the affordability in the same playing field.  While investors in California purchase a big number of homes (30 percent or so) that means 70 percent are being purchased by income constrained home buyers that depend on the whims of the mortgage market.
This minor rate move will need to shave off 15 percent in home prices to maintain similar affordability levels.  Higher rates will also inspire many of those investors to look elsewhere for higher yields.  Mortgage rates since 2011 only did one thing: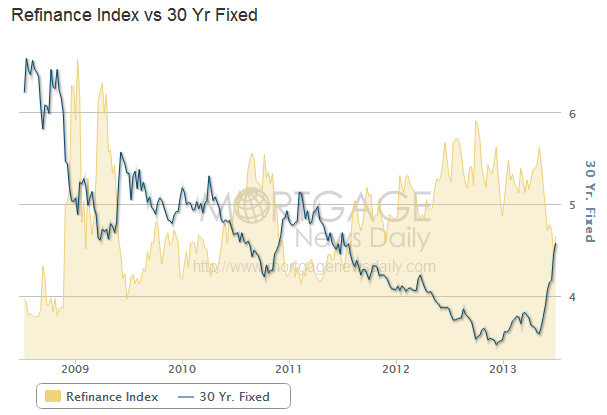 This reversal is unprecedented so we will see in the next few months what impact this will have in the overall housing market.  Also, in places like California, many thought that lower rates were here forever similar to Japan.  In this regard the recent market moves differ.  Many bought and kept refinancing to lower rates so the risk was largely ignored.  But now new buyers do not have the flexibility of previous sellers.  The refinancing party has quickly shut down.
Home ownership
Of course since the housing market began a long correction, home ownership has continued to decline: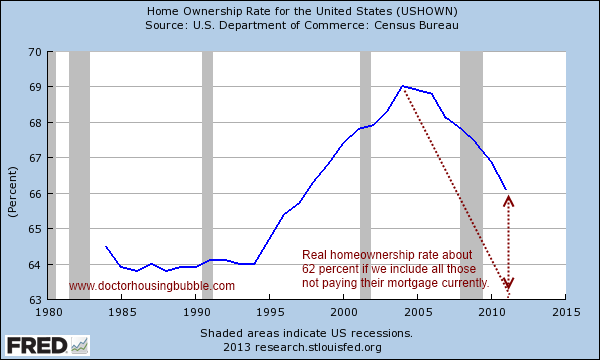 A big part has to do with record low supply and over the last few years investors gobbling up a vast portion of available inventory.  If we include home owners not making payments on their mortgage, the real home ownership rate is down to 62 percent and that is a multi-decade low.
We are now going to find out how resilient the underlying economy truly is to justify the current run in real estate values without the full fledge paternalistic instincts of the Fed.
Where are the construction jobs?
One of the interesting items from the recent jobs report is the record number of Americans working part-time gigs.  In the data, part-time jobs were up 360,000 over the month while the full-time job figures dropped by 240,000.  Of course, jobs are jobs and the market rallied.  Will this large number of part-time workers suddenly be interested in purchasing a home in the near future?  Even home builders seem reluctant to hire construction workers: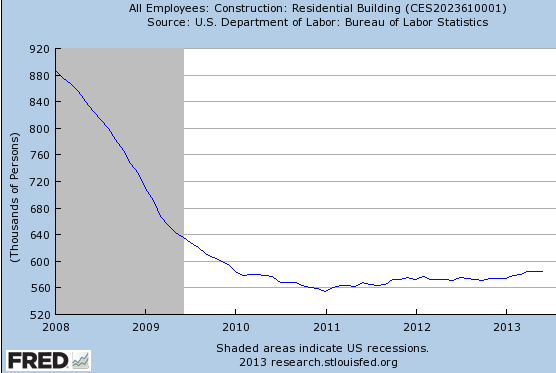 Where is the growth to reflect the last few years of rallying home values?  The tripod of this rally was based on:
-1.  Low interest rates

-2.  Investor demand

-3.  Constrained supply
For number 1, we now see a big jump in interest rates.  For number 2, we are already witnessing many larger investors pulling back interest from the market while mom and pop buyers enter the game late as usual.  For number 3, supply has started to increase in the last few months so the tripod of the rally seems a bit off balance.  We'll now see how important household incomes are and the impact of higher rates in the market.  Does any of this news really inspire anyone to rush out and buy especially given the manic nature of the current sales market?  I think most people would rather have a higher interest rate and a lower home price.

Did You Enjoy The Post? Subscribe to Dr. Housing Bubble's Blog to get updated housing commentary, analysis, and information.